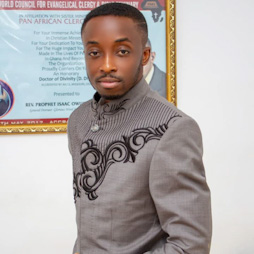 Reverend Justice Asare Bediako, one of the pastors of Glorious World Power Ministries International, has been a zealous follower of the Lord Jesus Christ from infancy. He Completed Prempeh College Senior High School and Kwame Nkrumah University of Science and Technology (KNUST), Kumasi.
He holds degree in Biomedical engineering. He is extremely prayerful and has touched many lives with his heart of kindness. His Passion for God has led many to repentance.
He Continues to preach the gospel until the second coming of our Lord Jesus Christ.
I'm here to pray, deliver and help you to get connection with Christ. Feel free to contact me using any of the following methods:
Email: email@email.com
Phone: (800) 555-5555 x35
Twitter: @Envato